RealPage Unveils Core Values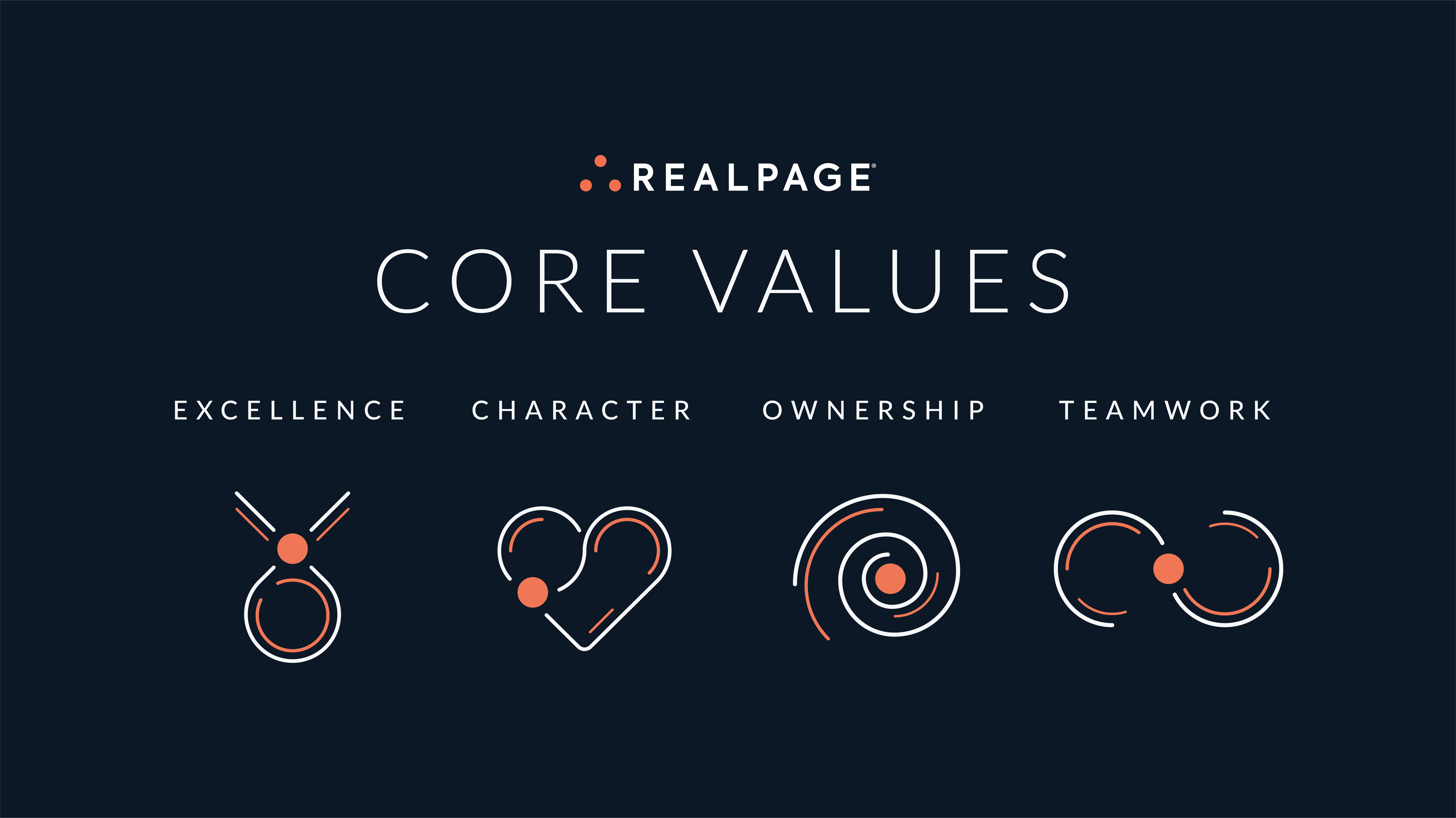 Excellence. Ownership. Character. Teamwork. These core values are integral to our ability to deliver exceptional value to our customers and enable their success. Recently, Dana Jones, CEO and President of RealPage®, unveiled these core values at the company Town Hall hosted in Manila, Philippines.


The Cornerstone of Our Company Culture
Core values provide the building blocks of our organizational culture as we solve problems, make decisions and build relationships in the workplace and beyond. They express who we are, how we work and who we strive to be — now and in the future.
Our four guiding principles will be incorporated into everything we do, shaping the company culture and building on the standard we have set as an elite performer in the multifamily real estate industry.
Defining Our Core Values
Our core values embody our commitment to creating an even better company that better serves our customers and the communities they support. We have further defined the essence of these values and what every RealPager pledges to do to uphold them:


Excellence
We commit to excellence when we endeavor to be the best we can be in all we do, not just for ourselves but for our customers, the markets we serve and the world around us. To deliver excellence, we will:
Focus on customer success
Drive innovation and thought leadership
Operate with a passion for quality
Ownership
When we own it, we do what we say we are going to do and know that the quality and outcome of actions are our full responsibility. To ensure this, we will:
Hold ourselves and one another accountable
Follow through on commitments
Lead, drive and own results
Character
When we lead with character, we inspire others, through example, to bring out their very best and help them reach their goals, albeit individual, team or company. We will always:
Treat everyone with respect and dignity
Foster a diverse and inclusive environment
Serve and strengthen our communities
Live with and demand impeccable integrity
Teamwork
We win together when we work as a team with shared goals, outcomes and achievements. We promise to:
Align on common goals to achieve shared success
Communicate with transparency and authenticity
Collaborate and execute as one global team
Celebrate the joy in the journey
Living the Core Values
RealPage ranked on the Forbes 2022 list of America's Best Large Employers, an annual list identifying companies that employees like to work for and would recommend to friends and family. We are also proudly certified as a Great Place To Work® for our office locations in the U.S., Philippines, India and Columbia, a designation that reflects the high employee morale across the organization.
Get to know us better and see why we continue to be the leading global provider of software and data analytics to the real estate industry.
If these core values resonate with you, come join our incredible team – #work4RP
Have a question about our products or services?