RealPage Gives Back with Distributions from Record Campaign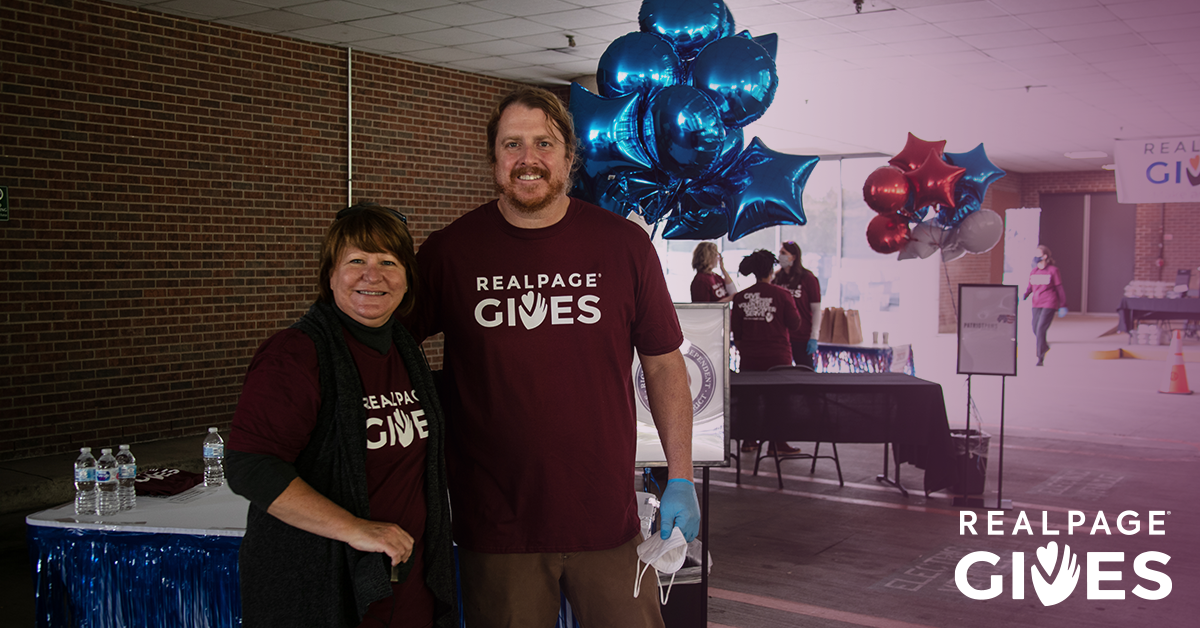 RealPage gives back through its philanthropic arm, RealPageGIVES, and is currently sharing a record amount of donations in 2020 with those who need them the most.
Employee donations and a company match totaling $1.2 million from RealPage's first-ever virtual giving campaign are being distributed to those with food and housing insecurities, seniors and students in need. The donations are benefiting nonprofit charities globally in 2021.
The contributions are particularly gratifying because employees dug deep to provide much needed support during extremely challenging times. With employees supplying much of the support, RealPage exceeded its goal of $750,000 by 63%. The $922,670 that employees raised was matched by $300,000 from the company.
In addition to monetary contributions, employees donated their time by attending 30 volunteer events both socially distanced and virtual. Collectively, RealPage employees served 1,117 volunteer hours during the campaign.
Enabling the power of giving back
Supporting communities through donations is a long-standing tradition at RealPage, and a core part of the company's culture beyond developing innovative real estate technology. Over the past 20 years, RealPage employees have donated millions of dollars and volunteered thousands of hours to the United Way.
RealPageGIVES launched with a focus on two key areas: giving back to education and community, and economic development. GIVES stands for giving, inspiration, volunteering, empowering and serving the needs of select nonprofits working in education, housing and food insecurity.
RealPageGIVES leverages technology and innovation to simplify how employees look for volunteer opportunities and donate to causes they care about. The platform enables employees around the globe to give back to the communities where they live and work through the vetted 501©(3) organizations of their choice.
RealPageGIVES is an ongoing philanthropic endeavor, but has particular impact each fall. The RealPageGIVES Month of Impact in November 2020 was a huge success and assisted hundreds of non-profit organizations during the month.
RealPage conducted a Drive-thru Donation parade and collected 170 large boxes filled with donations to seven of our nonprofit partners to kick off the month. By the end of November, the company had exceeded its goal by 48% in raising more than $1.1 million to support 458 non-profit organizations.
The effort followed the donation of thousands of dollars from May's #GivingTuesdayNow to Feeding America and other nonprofit organizations such as the United Way, Kids International Ministries, Mercy Housing and Our Calling. RealPage employees were among the millions of people from 145 countries who came together to raise $503 million in 24 hours for front-line employees in the battle against COVID-19.
A great place to work
Giving back with gusto is among the reasons RealPage is considered a great place to work. RealPage was recently recognized as a Great Place to Work-Certified™ company, which reflects the high employee morale across the organization.
RealPage believes in a strong corporate culture founded on values and philosophies that create an enriching, supportive environment for its vast community of employees, customers and investors. These principles form the backbone of the RealPage Promise, a set of inspiring goals employees strive to meet daily. They include treating fellow employees with respect and dignity, encouraging open dialogue, giving back to global communities and fostering an inclusive and diverse work environment.
"We are so proud of the many accomplishments of RealPage employees, spanning from donating their time and resources to those in need around the world and in our community, to making RealPage's culture as rich and welcoming as it has become," says Kurt Twining, SVP and Chief People Officer of RealPage. "Our employees' generosity, resulting in our best fundraising year yet, along with their commitment to making our company a Great Place to Work, are some of our greatest accomplishments to date."
RealPage believes being a good corporate citizen is more than bringing jobs to the global communities we serve. It's about engaging and empowering our employees to give back in the communities where they live and work. Learn more.
Have a question about our products or services?