RealPage Accounting Helps Cortland Grow Without Growing Accounting Staff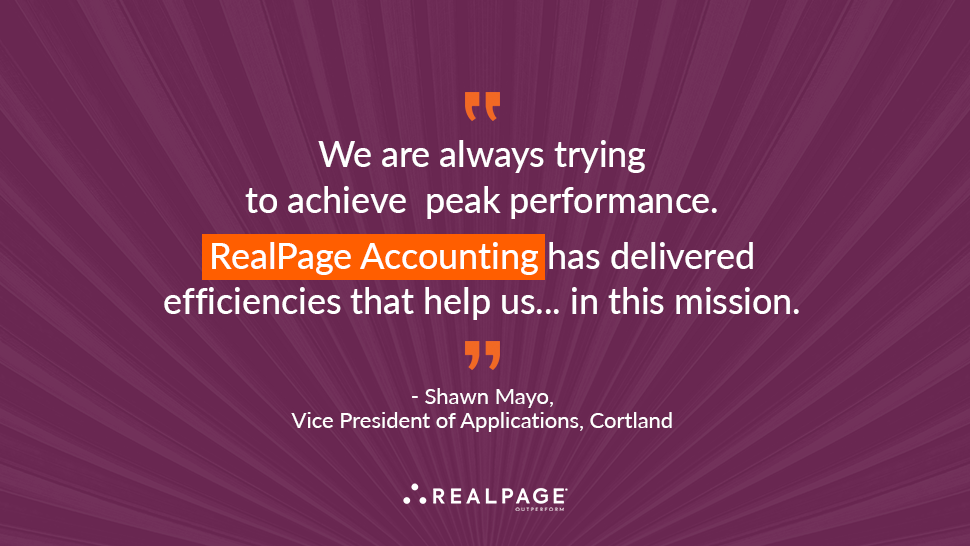 One of the largest multifamily firms in the U.S., Cortland employs around 30 professionals in its accounting function – a surprisingly modest number considering the empire they're managing.
That's not just because the company hires smart, hard-working people. According to VP of Enterprise Applications Shawn Mayo, it comes down to software.
"The accounting team has been able to scale and grow through the efficiencies of RealPage Accounting," he explains. "In all kinds of important ways, it allows fewer people to get more work done, so we don't have to continually add more staff as we expand."
Mayo throws out a variety of reasons for this scalability, including ease of use, super-efficient processes for tasks such as payments and bank reconciliation, and integration with other RealPage property management software components that enables the seamless sharing of information and reduces the burden of data collection and input, reporting and more.
Accounting software integration
Mayo emphasizes that when it comes to accounting, integration with other operational functions is paramount. The exchange of information between accounting and other components of the property management stack eliminates redundant data entry, and greatly aids in searching for and pinning down needed information.
"The data from (RealPage) Leasing and Rents feeds into Accounting, which makes life a whole lot easier for the teams," says Mayo. "We're able to find whatever data we need in one place, rather than looking for it in multiple siloes."
Mayo says this quick access to information through features such as searchable data grids pays off at every level of the organization – from those tasked with the most basic of accounting duties to senior executives who might want to drill down for a look at specific financial data. "It frees you up to more quickly do really productive work rather than spending your time pulling data together," he remarks.
Customizable, role-based dashboards allow everyone in the organization to choose what information they need ready access to, according to their particular functions.
Transforming accounting data into actionable insights
Just as important as access to data, says Mayo, is the ability to serve it up in a useful form.
"One of the great things about this software is that we're able to use our data on all different levels within our organization," Mayo explains. "An accountant can look at the financials, but then you also have executives who want to look at KPIs to make informed decisions – and RealPage Accounting puts these key metrics at their fingertips, without having to pull them together and put them in a meaningful form."
"Our analytics, renewals and operations teams, as well as accounting, use data to make real time decisions," he continues. "They're able to slice up the data in whatever manner they want to in order to get the perspective they need for their particular areas of responsibility."
He says financial and operational reports are quick and simple to produce, and they're easily customizable for the needs of each property manager or stakeholder.
In search of peak performance
Asked to pick out favorite features, Mayo admires the tight integration of accounting with budgeting. And he reserves special praise for the bank reconciliation module. "It lets us reconcile more than 700 bank accounts in a matter of minutes," Mayo says.
"I think this is a great product," Mayo sums up. "I love the ease of use. And one of the great things about RealPage is that as we continue to grow as an organization, RealPage has worked closely with us to adjust and customize the software to our needs. They really listen to the particular needs of their customers – it's not a one size fits all."
"Like most organizations in our business, we are always trying to achieve peak performance," he concludes. "RealPage Accounting has delivered efficiencies that help us a lot in this mission."
For more information on multifamily accounting solutions, please visit RealPage Accounting.
Have a question about our products or services?