COVID-19: Impact on Payments (Webcast Summary)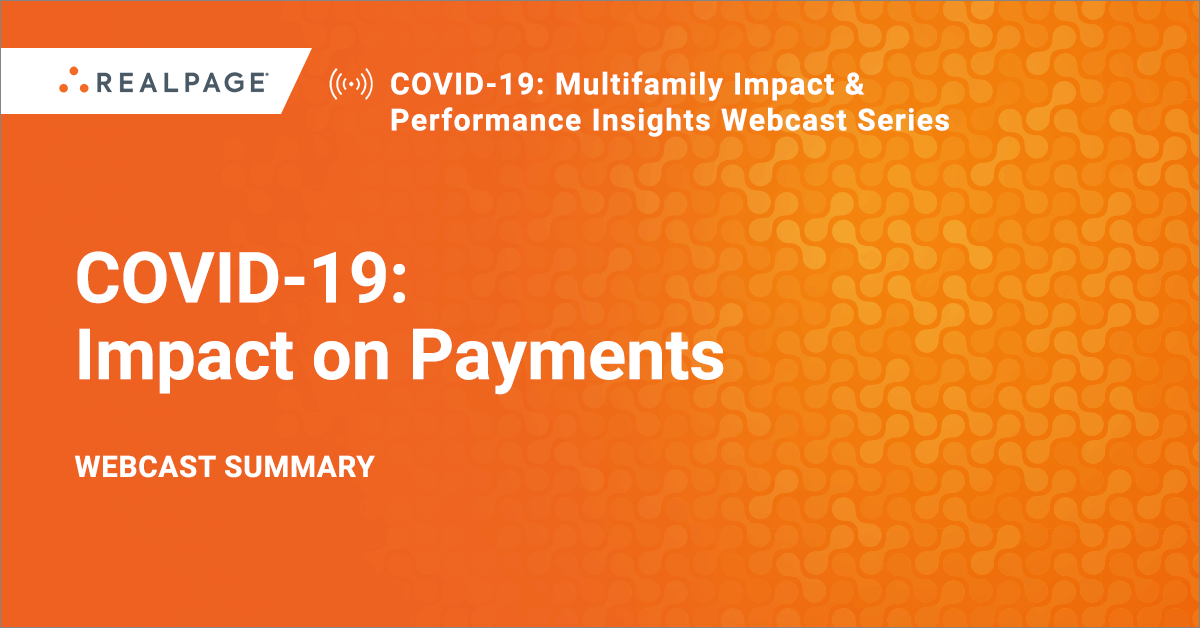 To support the multifamily community through the COVID-19 crisis, we've launched a series of discussions centered around its impact on the rental housing industry with the latest data, expert insights and actionable measures stakeholders can take to minimize fallout. Register for upcoming webcasts and watch previous episodes on-demand at the COVID-19: Resource Center.
This is a condensed summary from the webcast, COVID-19: Impact on Payments, broadcast on April 28, co-hosted by RealPage VP and Deputy Chief Economist Jay Parsons with special guests: Marcie Williams, President, RKW Residential; Heather Shrader, Vice President, Grady Management; Rafal Krawczyk, Director IT, Sequoia; Erica Reinke, Vice President Property Management, Steadfast Companies; Jason Grovert, CIO, Steadfast Companies; Keri Fields, Assistant Communication Manager, Steadfast Companies; Gina Carter, Vice President Operations Blue Ridge Companies; and Matt Davis, SVP and GM Financial Services Division at RealPage.
LATEST ECONOMIC UPDATES & MARKET TRENDS
Data assessing three weeks of April rents revealed a higher figure than the industry anticipated with rent paid by 89% of residents—a decline of 4 percentage points from the same period last year. The top 5 performing markets were Salt Lake City, Sacramento, Riverside/San Bernardino, Virginia Beach/Norfolk and San Diego, while the weakest metros were New York, New Orleans, Las Vegas and Detroit—areas that have endured some of the hardest hits from infections, fatalities and job loss resulting from the pandemic.
In general, collections were most challenging with Class C properties, but an additional weak spot has been high-rise buildings in downtown submarkets with exposure to corporate leases held by short-term rental companies who have exhausted cash flow.
THE 4 MOST COMMON PAYMENT PLANS
The repercussions of the pandemic have accelerated the utilization of online payments, with the surge beginning the latter half of March and resulting in a 20% increase. This figure is expected to increase in May.
Until about a month ago, payment plans were almost non-existent in the market-rate apartment world. The vast majority of property management companies are now providing a range of payment plans to better accommodate their residents' circumstances. Over 45% of webcast attendees polled were aligned with this shift, offering their residents multiple options to pay.
To date, the four most common payment plan options include:
1. Deferred Payment Plans are the most common payment options. Renters who sign these plans agree to make a partial payment in April, and spread the balance out over future rent cycles, typically ranging from one to six months. Some operators will offer to extend the payment window as part of an early renewal. Grady's Heather Shrader notes that their process for granting deferred payment and determining the partial payment schedule is addressed on a case-by-case basis. "We expect an uptick in May when residents will have answers on what they can afford to pay."
"We have about 100 residents signed up for an April payment plan," said Blue Ridge's Gina Carter. She expects to see this number increase in May, but adds that they are waiting until May 1 to offer deferred payment for that month and residents will only be eligible if they owe less than $300.
2. Flexible Payment Plans allow renters to make multiple payments over the course of the month without penalty, rather than paying the full balance upfront. Sequoia's Rafal Krawczyk shared that flexible payment plans were part of the Sequoia Cares initiative that was launched at the end of March and contributed to the collection of 96% of April rents. "We've offered flexible rent before but modified the terms so no fees were attached and residents can pay rent on any two days of the month they want. It is our most popular option with over 50% of our residents participating."
3. Security Deposit Conversions apply a portion of the security deposit toward the rent bill. RKW's Marcie Williams says they have started researching this option, "We have 1% – 2% of our residents who have accepted payment plan options and have collected 93% of rent to date. In addition to security deposit conversion, we're also looking at negotiating with vendors to cancel charges for the month in exchange for extending our contract with them."
4. Incentive Programs grant discounts or concessions for paying on time, making payments on time over multiple months, or agreeing to extended renewal periods. "We've waived ancillary fees if rent is paid on time, which saves each resident about $50 on rent," Williams noted. Krawczyk said that Sequoia continues to assess situations and adjust programs and options accordingly, "The more tools and flexibility, the easier it is to make sure everyone walks away happy."
Additionally, many property managers are offering to waive fees for credit card payments to provide additional flexibility. Late fees are also being widely eliminated for properties that are not required to do so under the CARES Act.*
STEADFAST COMPANIES: A MINI CASE STUDY
Steadfast Companies now has about 5% of their residents on a payment plan. Over the course of several weeks, they built out a robust system for requesting, reviewing and approving payment plans for their residents. This mini case study shows how they did it:
Portfolio Facts: Owns and operates more than 28,041units in 17 states across the country.
Problem: Erica Reinke explained that the team was faced with solving for the best way to support the residents. They knew some type of payment plan would have to be implemented, but figuring out the dynamics was the problem because the community managers were already dealing with a lot of change.
Solution: The team identified those community managers with the most experience with delinquencies and centralized the collection effort within an Account Receivables Support Team where messaging was aligned and customer service goals defined. Jason Grovert detailed how a portal was created exclusively for the residents to register and submit payment plan requests that were facilitated to completion by a team of 20 agents. Keri Fields noted that each request had to confirm what hardship documents could be provided, how many months would be needed to spread out the payment and if those months exceeded the lease expiration, then renewal terms would be discussed.
Results: 94% of rent was collected in April. Overall, about $1.7M of rent was outstanding for the month. The team was able to set up 1200 payment plans totaling about $1M in rent. The average timeline for spreading out payments was 4.5 months.
SIX TIPS FOR PROTECTING ASSETS & REDUCING RISK
Throughout the industry's transition to integrated payment plans, Williams emphasized that what has helped RKW's success and steps to mitigate risk: has been tracking the progress its 1% - 2% of residents on payment plans are making on a daily basis. Her teams are able to assess in real-time if and when they need to pivot strategies to offset further loss.
Other tips for protecting assets and reducing risk include:
• Engaging with residents and listening to their unique situations. Be compassionate and seek to understand and create a payment plan that works for both of you.
• Being flexible on payment options for each resident. Some payment is better than none. If you're only offering deferred plans, consider allowing multiple payments over the course of the month.
• Asking for documentation of hardship. Realize that document types may vary. Understanding character is critical in managing risk.
• Documenting all official payment plan offers on company letterhead with a central point of contact. Have an executive above the property level sign when possible. Make sure employee communications are aligned and try to assign payment plan discussions to a few individuals to communicate explicitly.
• Knowing your local regulations and restrictions and their variations between cities and states. Be prepared for those situations that will require a legal outcome.
For the complete discussion from COVID-19: Impact on Payments, including all interviews and poll results, watch the webcast on-demand here.
*This content should not be construed as legal advice or legal opinion on any specific facts or circumstances. The contents are intended for general informational purposes only.
Have a question about our products or services?