Camden Cuts Apartment Maintenance Completion Times in Half with Mobile Facilities App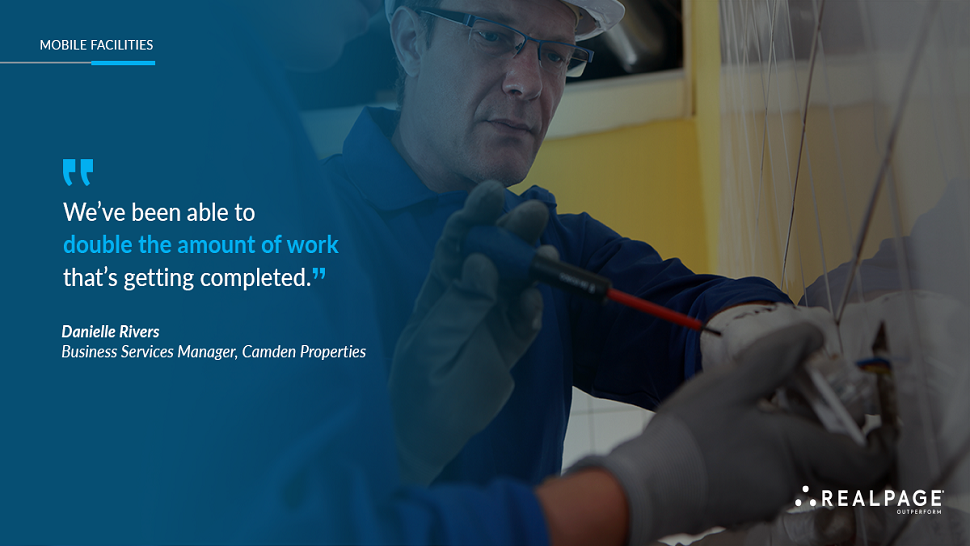 Amidst the flurry of activity at RealWorld 2021, we were able to pin down Camden's Danielle Rivers for a chat about how moving from paper to a mobile app has transformed the company's response time and efficiency in taking care of apartment maintenance requests.
Her response almost defies belief: "We've been able to double the amount of work that's getting completed," she glows. Or put another way, Camden's maintenance techs are getting their work orders done in half the time they did when depending on a paper-based system.
And perhaps the most striking fact? It didn't require an investment in fancy hardware. The RealPage Mobile Facilities app works on a standard cell phone.
The pitfalls of paper for maintenance requests
"Back when we were using paper service request forms, our techs were losing 15 minutes just going to the office to get what they needed to get jobs started," Rivers explained. "They had to print the request forms and collect the keys necessary to get into those units. Then they had to walk back to the units to get the work done. Then it was back to the office again to print more request forms and gather more keys, and those forms had to be completed, and the manager had the job of closing out the tickets. And of course, all of these interactions and conversations between techs and the staff in the front office take time and attention away from their core duties."
Part of RealPage's Property Management Suite, Mobile Facilities is an app that delivers work orders directly to the maintenance techs' cell phones, so they can methodically knock out their tasks without trips to the office. It lets them update job status as jobs are finished and close out tickets themselves. And they can even create new service requests on the spot as they come across problems that need addressing.
All this activity is being recorded and monitored in real time by the maintenance manager, so they know exactly who's doing what, how long it's taking, what's left to do and other important information without using radios or digging through paper at the office, after the fact. The system even knows what inventory is being used so it can be automatically replenished.
Thumbs up from multifamily maintenance staff
There was initially some concern that maintenance staff would be less than enthusiastic about having to learn a software app to do their jobs. Rivers found the opposite to be true.
"Our maintenance team is very dedicated," she says. "They like doing their jobs well, and they appreciate efficiency. And even though you might think that maintenance techs would be old-school, they really took to the app, really love being able to see their tasks right there on their mobile device, without all the paper and back-and-forth."
She says it also gives them a sense of empowerment. "You're not forcing them to come to the office to print off a work order and get a key, go off and do the work, fill things out and come back and have someone close out the job, all these mundane steps that take away your sense of control.
"Instead, right in your hand is this tool that lets you view what's on your plate, record your progress, report any complications, close and open new jobs, even do things like take photos of itemized damage during inspections for charging back to residents. These are very competent staff who don't really need or want the inefficiency of involving front office staff or maintenance managers and paperwork at every turn."
The power of information
This being said, managers do benefit – and greatly – from having all this information captured online rather than languishing in a stack of paperwork orders. It provides an ideal opportunity to fine-tune the maintenance function by viewing how long certain types of jobs are taking and setting benchmarks for performance, addressing persistent maintenance issues, analyzing the cost and performance of supplies and appliances, deciding on strategic repairs and replacements, and more. Every bit of information techs enter in their app is being compiled and organized in a form that enables better analysis and decision-making.
Enthusiasm for the Mobile Facilities app has reached the point that the maintenance teams themselves have become involved in making it even better. Rivers tells us that they motivate one another in becoming as efficient as possible, and sometimes propose enhancements they believe will take this efficiency to a new level.
What to do with all that extra time
On a previous occasion during which we spoke with Danielle Rivers about the app, we asked her what Camden's apartment maintenance teams were doing with all those hours they were saving. Were they reducing their headcount?
No, she said. They had been able to shift attention to preventative maintenance, heading off potential problems before they became realities. She gave the example of water heaters, whose failure can result in ruined carpeting, sheetrock, even damage to an apartment below. But there are dozens of other examples of assets scattered across a property subject to aging, defects and failure that can become part of a regular inspection program when you're not spending all your time taking care of active problems.
Keeping residents happy with peerless apartment maintenance
Timely maintenance is always at the top of the list of issues apartment residents judge their communities by. And the Mobile Facilities app has delivered for them in more than one way.
First, and most obviously, maintenance staff are getting to more jobs and getting them done more quickly. "Residents no longer have to worry about repairs being completed in a day," says Rivers. "They're completed in hours."
But they're also benefiting by being more informed. Real-time notifications keep them up to date on the status of their service requests. They know when maintenance professionals are coming and going from the apartments, and whether or when jobs are completed.
"If you think about it, your apartment maintenance staff is the core of your connection with your resident community," Rivers opines. "They're the ones who project the customer service, and they see your residents probably more than your leasing staff does. So, when residents feel they're being taken care of really well in this area, when something needs addressing in their apartment and it's done quickly and well, it has a big impact on your reputation.
"Our maintenance team has always been able to provide good customer service," Rivers concludes. "They're the heartbeat of Camden. And what I think we've able to do with the Mobile Facilities app is elevate our game. We've done from being good to great. And we're super thankful for that."
Have a question about our products or services?