From "Ability to Pay" to "Willingness to Pay": AI-Based Tenant Screening is Boosting NOI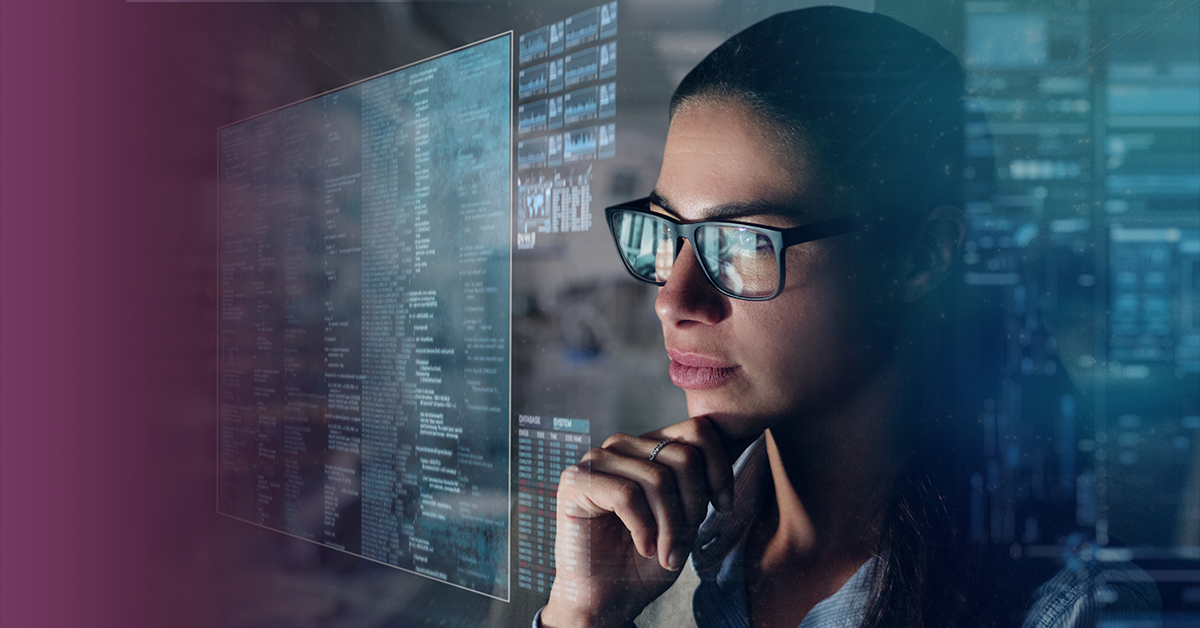 Tenant screening has traditionally been about digging up every available record about a prospective renter, then determining whether any risks of non-payment or bad behavior outweigh the benefit of filling an empty unit.
But driven by RealPage's new AI Screening, the discipline is beginning to take on a new look.
That's because a renter's income and credit history don't always correspond with the likelihood they'll pay their rent. You'll find the best predictor in their past behavior, not their credit history. Some people prioritize their rent payment ahead of their other expenses, and others don't. A person strapped for a car payment or even food money might feel that having a place to live comes first.
This is a renter you want. But with the old way of screening, you'd likely turn them away and lose a reliable rent payer. Something you can't afford to do, particularly in uncertain times.
The trick is: how on earth can you gauge a prospect's willingness to pay?
It's all in the records
The weighing of "willingness to pay" only became possible after RealPage had amassed enough rent transaction records to compile a rental history database on millions of renters and thousands of sites. Has the prospect paid their rent reliably in the past?
RealPage was able to build a database of over 36 million lease outcomes into a screening system underpinned with artificial intelligence, in order to provide a better predictor of whether a prospective tenant would actually come up with rent money every month. RealPage AI Screening allows properties to more accurately adjust thresholds balancing risk with occupancy goals.
Better tenant screening, $39 per unit savings
RealPage recently announced the results of the first full year of AI Screening out in the field, and they are remarkable.
AI Screening was proven to deliver an average savings of $39 per unit per year, pushing NOI higher by dramatically reducing non-payment and lease default risks. The documented savings exceed early estimates of $31 per unit by 25%. You can read a white paper about the results here.
One national REIT reported saving $1.1 million across its 52,000 units. Early lease terminations dropped 24% YOY, and skips and evictions 38%. Property management companies with smaller portfolios reported similar savings in proportion with their size. Across 50,000 same-store leases representing 487 unique assets and 130,000 units, RealPage AI Screening also drove a 10.2% reduction in the average balance owed per move-in.
The following chart demonstrates the difference better tenant screening can make in the real-world case of a property management company managing 40,000 units. Results include an increase of almost 8% in move-ins and a 33% reduction in bad debt.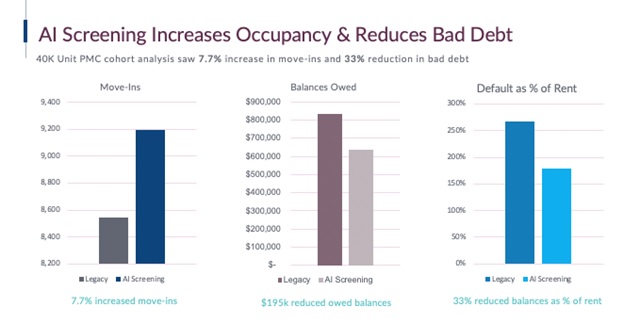 CF Real Estate has reported a striking 75% drop in skips and evictions since implementing RealPage AI Screening. And R.A. Snyder, (IT Consultant) at (SoCal Consulting), recently had this to say:
"Once AI was introduced, it was very exciting, trending on someone's ability to pay. It gives us a better sense of comfort. It makes a huge difference. The first time a senior community had an AI Screening report come through they said, 'we would've never rented to this person based on the old methodology'."
Additional RealPage AI Screening clients continue to report powerful results.
"There is no bigger test of AI Screening's ability to help predict a renter's willingness to prioritize their rent obligation over others than a global pandemic. While we were unsure of what to expect during such an uncertain situation, we ended April at a much improved 1.7% delinquency with AI Screening in place."
Kortney Balas, Vice President of Information Management, JVM
RealPage AI Screening is obviously already making a difference. And it promises to advance screening even further as time goes on and exciting new capabilities are added. Stay tuned!
Have a question about our products or services?