6 Tech Tips for 2023 from Top Multifamily Leaders: NAA Takeover Recap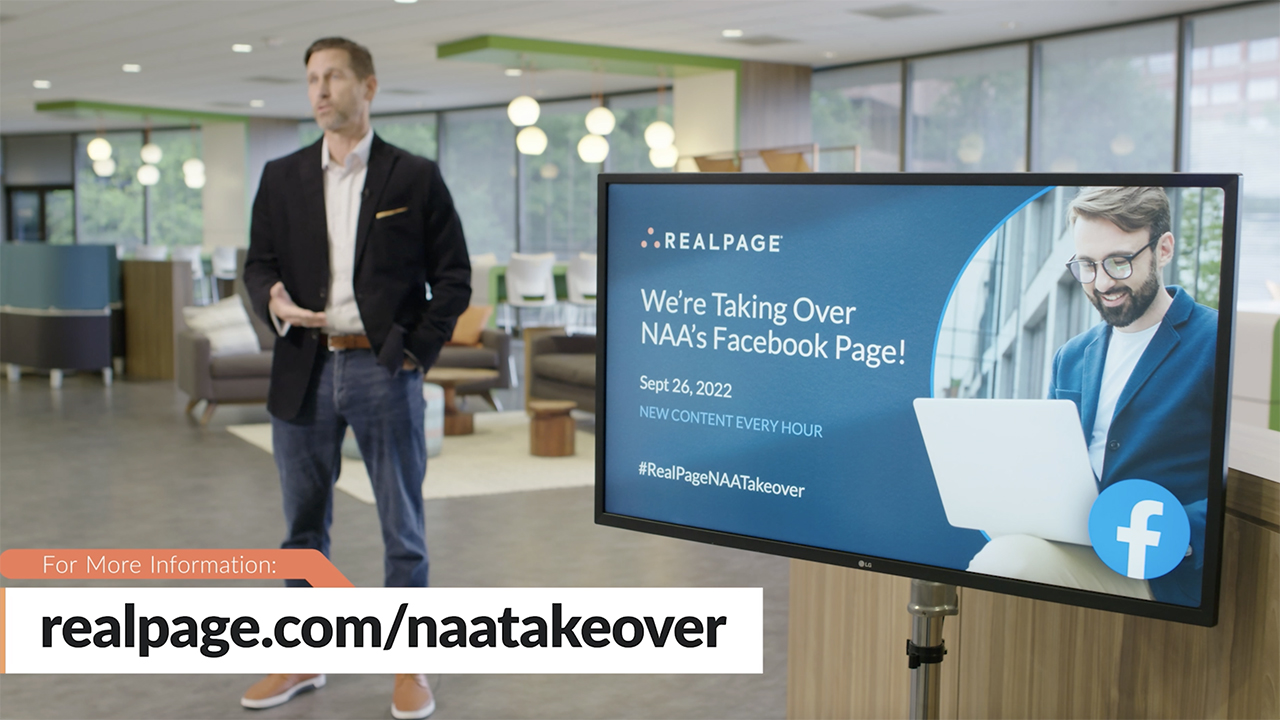 In case you missed it, here's a rundown of what happened when RealPage® hosted a social media takeover of National Apartment Association's Facebook page on Sept. 26, 2022.
Throughout the day, we anchored six panels on topics like asset management, performance analytics and benchmarking, and multifamily trends. Our guests let us peek into their playbooks to gain the insights that have made their companies successful in this incredibly dynamic market.
Although our guests use a variety of strategies to stay competitive going into 2023, there is one commonality: They all harness data that drives results to reach peak performance.
Tip 1: Don't Limit Revenue Management to Pricing
Too often, operators fall back on pricing as the only lever, even when price is not the issue. A more expanded definition of revenue management is needed, one that ties together every aspect that impacts revenue, from marketing to leasing to pricing.
Use price as a foundation with AI Revenue Management, and expand visibility across pricing, marketing and leasing to capture incremental yield and drive efficiencies.
Guest: Courtney Duffy Schnee, Senior Vice President of Asset Management, Northwood Ravin
Host: Amy Dreyfuss, SVP of Revenue Management at RealPage, Inc.
Tip 2: Do Your Due Diligence on Deals Earlier
Winning deals and meeting return targets are not about taking unnecessary risks. The best strategy starts with due diligence early in the process to quickly find deals, ones without revenue management and maintenance issues or low reputation scores.
Stay ahead with Market Analytics to get the most current and precise market, submarket asset-level performance intelligence and demographic KPIs.
Guest: Matt Ferrari, Co-Chief Investment Officer, TruAmerica Multifamily
Host: Jay Parsons, Chief Economist for RealPage, Inc.
Tip 3: Break Down Barriers to Entry for Investment Opportunities
The best suburbs bring some of the highest barriers to entry, and investors need to take a more strategic view by carefully identifying high-demand submarkets worthy of capital investment.
Gain unmatched visibility into asset performance KPIs with Business Intelligence and Market Analytics, down to the unit level to determine the best investment opportunities.

Watch Video Clip
Guest: Payton Mayes, CEO, JPI
Host: Andrew Bowen, Vice President of Investor Markets for RealPage, Inc.
Tip 4: Focus on Optimizing Processes for Student Housing
With steady growth projected for student housing, it's important to focus beyond overall revenue by continually optimizing processes, creating efficiencies and moving the needle on leasing drivers like reputation management and ORA scores.
Get clarity across marketing, reputation and leasing to understand impact to demand beyond pricing. AI Revenue Management has the flexibility to adjust to constantly changing market conditions to maximize yield.
Guest: Jennifer Cassidy, Senior Vice President of Student Operations, Cardinal Group Management
Host: Arben Skivjani, Deputy Chief Economist for RealPage, Inc.
Tip 5: Pinpoint the Right Opportunities in the Build-To-Rent Space
Knowing the right opportunities at the right time for new acquisitions is critical for built-to-rent developers, especially when they are competing with homebuilders for the same sites and facing rising interest rates and materials costs.
Equip your team with precise intelligence from Market Analytics, and guide investment decisions from site selection to disposition to maximize returns.
Guest: Josh Hartmann, CEO, NexMetro
Host: Carl Whitaker, Senior Director, Real Estate Economist for RealPage, Inc.
Tip 6: Close the Loss-To-Lease Gap With Benchmarking
Loss-to-lease is an important KPI and central to operational strategies. The challenge is to close the gap to improve the bottom line with a smart, holistic renewal and retention plan based on benchmarking data.
Ensure visibility into competitive, transactional data with Performance Analytics Benchmarking and quickly identify underperformance by comparing your properties against others.
Guest: Robert Waz, Senior Manager of Revenue and Strategic Operations, Magnolia Capital
Host: Tracy Saffos, Industry Principal for RealPage, Inc.
And That's a Wrap!
For everything we covered during the takeover or to learn more about data and analytics tools that help you reach peak performance, visit #RealPageNAATakeover
Have a question about our products or services?