YieldStar® Investment Analytics Powered by MPF Research®
Get the Most Transparency for Precision Investing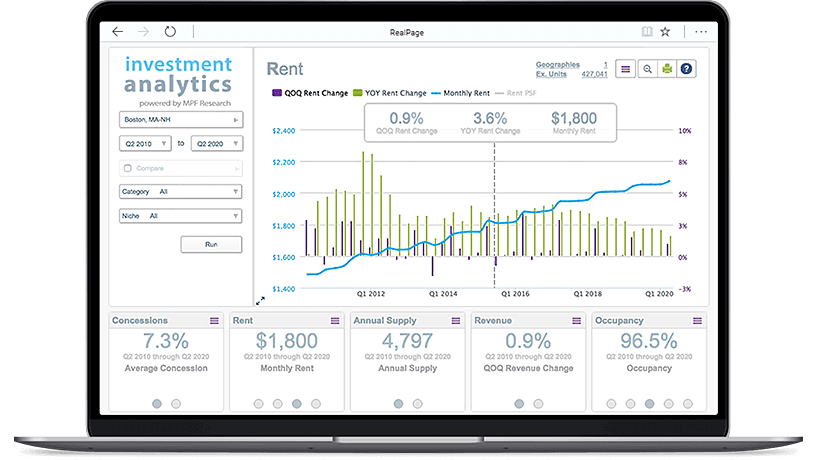 Multifamily's Source for Lease-Transaction Apartment Market Intelligence
TRANSPARENT. PRECISE. ACCURATE.
Expert analysis, robust data and statistical-based forecast modeling deliver the most accurate 5-year forecasts for 100 major markets.
Traditional apartment market research only tracks the changing composition of units available for lease. When vacancy levels are at 4%, you have very limited market transparency. How good is 4% visibility? Only YieldStar offers the 360-degree transparency you need to make accurate and precise investment decisions.
Leverage lease-transaction-based data on actual rental revenue movement, in-place rents, renewals, affordability and much more. Access over a decade of MPF Research's extensive survey data and rely on accurate, long-term forecasts, Real Capital Analytics® insight, on-demand dashboards and interactive heat maps. With a powerful and intuitive platform viewable on any device, at any time, we're transforming the way you look at multifamily investing.
See What You're Missing with Multifamily Investment Analytics
ACCURATE 5-YEAR FORECASTING
Run comprehensive submarket-level and long-term forecasts on occupancy, rent, supply and demand
LEVERAGE 50 METRICS AND REAL CAPITAL ANALYTICS DATA
Pull cap rates, sales volume and pricing for markets and submarkets. Access MPF Research surveys, Bureau of Labor Statistics, U.S. Census and construction pipeline data
LEASE-TRANSACTION-BASED DATA
Get bottom-line metrics like rental revenue, in-place rent growth, rent change, renewal conversion rates and more
EXPERT COMMENTARIES
Review market reports written by MPF analysts and economists
ON-DEMAND CUSTOM CHARTS
Pull data quickly, custom build and save geographic groups to avoid data queries and endless Excel work
GRANULAR VISIBILITY
Drill down to submarket and ZIP code level for targeted insights
INTERACTIVE HEAT MAPS & SCORECARDS
Quickly identify opportunities and threats, and pinpoint changing market conditions.
ANY DEVICE, ANYWHERE
Works on smartphone, tablet, PC or Mac devices for greater mobility and flexibility
Substantial quarterly reports cover 100 markets
Dive deeper into 200 markets and 1,000 submarkets
YieldStar MPF Research has been the industry's most trusted market intelligence resource for 50+ years
Unique Interactive Heat Map
Get a first look at changing market conditions in real time so you can act fast.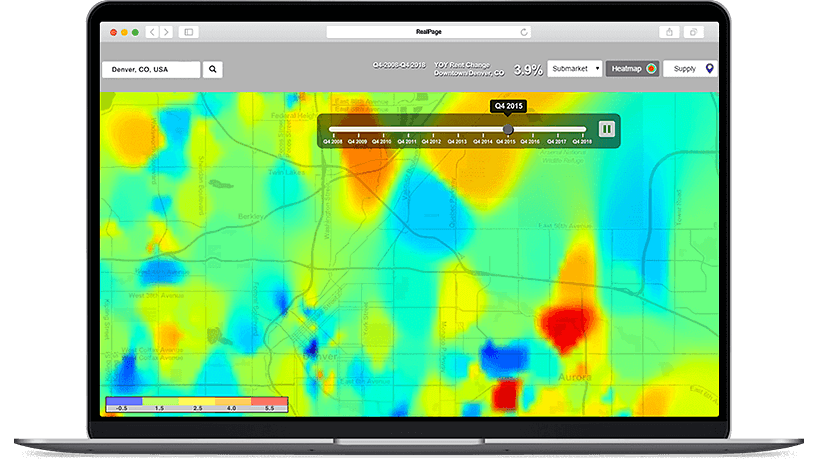 Gain Deeper Insight Into
Unit Mix
Asking Rents
Effective Rents
Concessions
Renter Quality
Renter Traffic Trends
See more. Know more.
Get the most accurate, detailed and timely information available for multifamily insight.
Review KPIs at a Glance
Competitive dashboards show subject vs. similar property KPIs including asset-to-asset comparisons of asking and effective rents by unit type, occupancy, rent per square foot and new lease change rates.
Get In-Depth Property Details
Save time on research with current property detail pages that provide data on thousands of properties including unit mix, rents and key metrics down to the floorplan level.
Create Competitive Portfolio Scorecards
Build and save portfolios and compare historical competitive performance vs. multiple properties in a portfolio.
Save Competitive Searches
Create and save searches of subject vs. comps analysis for daily assessments and investment opportunities.
Broaden Geographic Scope
View and compare any property in a market to any comparable properties in that market within a 25-mile radius. Select up to 20 comps in a 25-mile radius.
Download Market Survey Reports
Access MPF Research® quarterly survey reports and other insights covering 200 markets and 1,000 submarkets.