LeaseLabs® Marketing by RealPage®
One complete solution that works with any property management software system, LeaseLabs Marketing delivers direct leads to help reduce marketing costs and boost occupancy.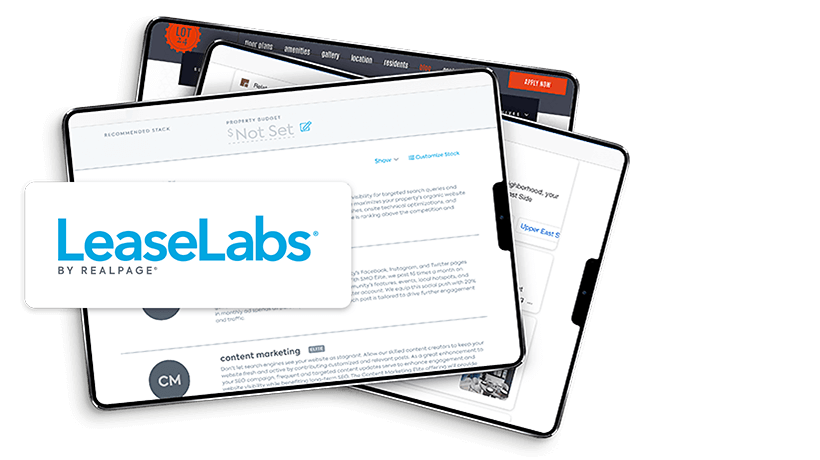 Convert 2-3X More Leads
LeaseLabs GoDirect Marketing generates and captures direct leads that are proven to convert at a rate 2-3X higher than indirect leads generated from internet listing services.
We convert the broken, disjointed customer journey into a single, unified strategy. GoDirect is the multichannel solution with only one goal in mind: driving qualified traffic directly to your website so you can convert leads to leases at a much higher rate. GoDirect empowers your marketing strategy with digital marketing products that are creatively and digitally engineered to deliver.
LeaseLabs Marketing Products
The Search Marketer
Instantly generate and convert qualified traffic
GeoTargeter
Maximize those mobile micromoments
Email Marketing System
Automate your strategic communications
Web2Print Social
Agency-designed collateral at your fingertips
Content Marketing
Exclusive, local content made for your community
Reputation Management
Monitor and improve your reputation online
Social Media Optimization
Build a following and drive traffic
Search Engine Optimization
Create first impressions with SEO
Content Management System
A versatile, robust CMS platform
Website Pro
Custom-build from scratch
Website Plus
Theme designs – your way
Website Essentials
Express more than just a theme
Marketing Dashboard
Your marketing data in one place
Flex
Focus on big-picture strategy while Flex works through the details