G5, A RealPage Company
G5 Marketing Solutions are an end-to-end solution driven by predictive technology and innovates every stage of the renter journey, delivering seamless, connected experiences to unlock hidden revenue.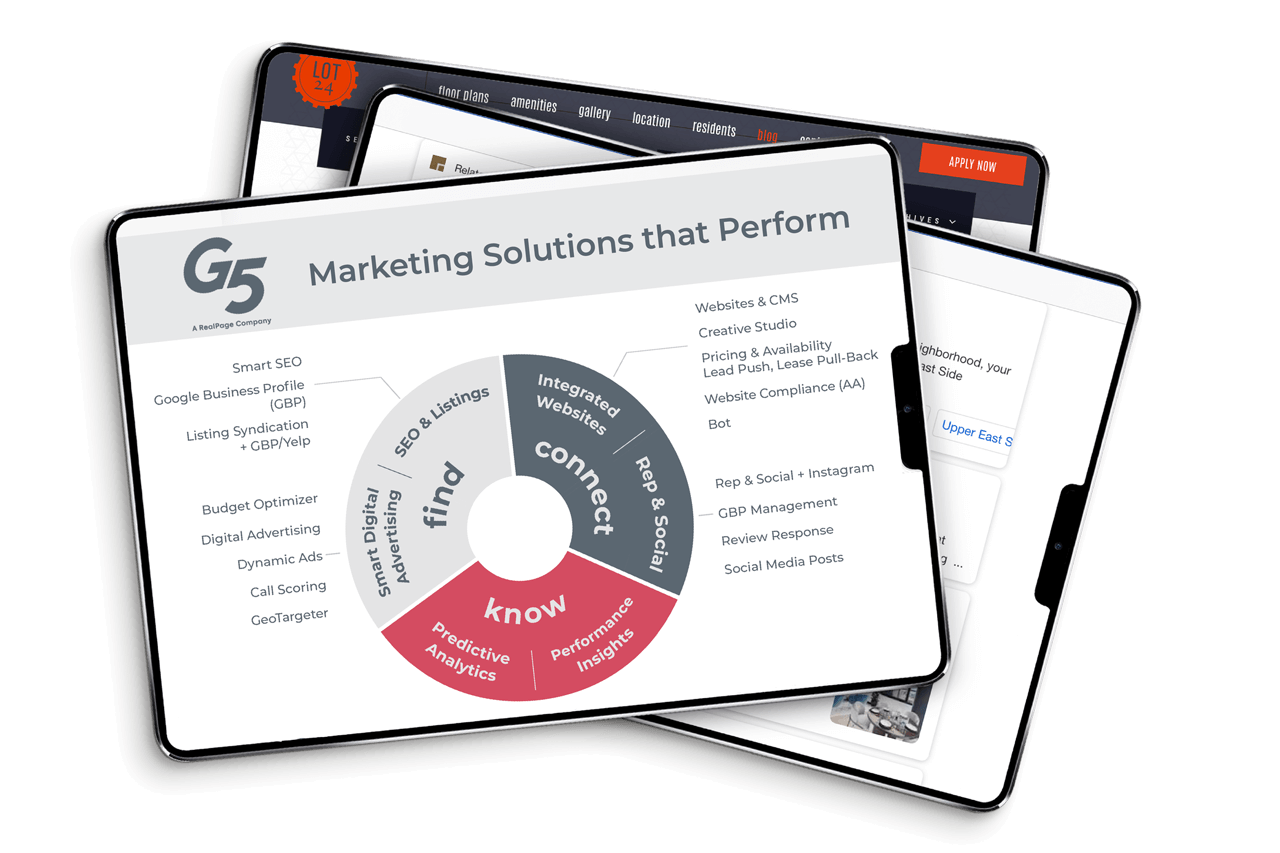 Get 300% More Calls With an Intent-to-Rent
G5 Marketing Solutions generates not just more leads, but better leads. How do we do this? Our end-to-end solution includes Smart Digital Advertising and conversion designed Websites.
Smart Digital Advertising is built with three proprietary technologies, designed to find and convert more renters with an "intent to rent." Our AI-driven AdTech delivers you 300% better leads.
Integrated Websites are mobile-first, SEO-optimized and WCAG compliant, ensuring you show up when prospects are searching. They seamlessly integrate with the industry's leading property management systems so your pricing & availability is accurate and leads are pushed directly into your back end for faster sales follow up.
G5 Marketing empowers marketers to outperform the market daily AND gives renters a seamless shopping experience from lead-to-lease.
G5 Marketing Solutions
Smart Digital Advertising
Our proprietary solution combines expert vertical strategies and predictive technology to deliver best-in-class advertising solutions to find more of the right renters in your market.
Call Scoring
Our AI-driven technology scores every phone call; then on a daily basis, predicts where we'll find the highest conversions and moves your ad spend to the right campaigns daily.
Integrated Websites
Performance websites designed to engage and convert traffic into leads with sophisticated aesthetics, compelling copy, accessibility, and pricing & availability updated hourly directly from your PMS.
Smart SEO
Get found on search pages through a combination of technical SEO as the foundation of your website, on-page keyword strategies and leading Google Business Profile optimizations.
Rep & Social + Instagram
Monitor, respond to and gain insights from your social and review channels across your portfolio through a scalable tool helping control your online reputation.
GBP Management & Review Response
Our expertly crafted review responses align with your escalation strategy, post within 1-2 days and includes Q&A on Google Business Profile, along with top multifamily review channels.
Marketing Analytics
Multi-touch attribution and performance reporting for real estate marketers operating at scale with advanced filtering for actionable insights and full transparency.
realpage
Creative Studio
Our in-house agency integrates your brand with performance-driven design, targeted real estate content informed by expert SEO to produce the perfect balance: creative that elevates and converts.