Manhattan Brings Down New York Apartment Performance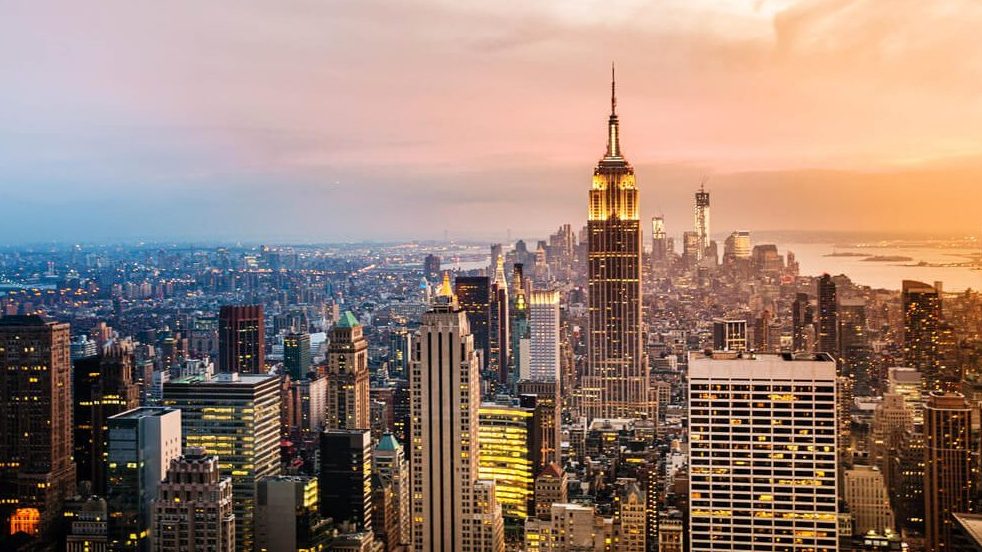 Posted September 10, 2020
New York faces an uphill battle to regain its footing in apartment fundamentals, and the Manhattan submarkets are disproportionately impacting the market's poor results.
New York has racked up several unwelcome titles since the start of the pandemic. The market has lost more jobs than any other market, shedding over 1 million positions in the year-ending July. Throughout the summer, rent collections have been among the worst nationally. New York suffered the most net move-outs in 2nd quarter, a timeframe typically characterized by high demand. Driving this decline, many of the amenities and quality-of-life aspects that make New York desirable are, at least temporarily, obsolete.
While most apartment markets across the nation started seeing occupancy crumble in April, the decline started in March for New York, one of the first U.S. markets hit by COVID-19. After peaking at 97.8% in February, occupancy has come down by 120 basis points (bps), landing at 96.6% in August.
Occupancy has fallen in nearly every New York submarket since February, but the steepest declines have taken place in Manhattan. In fact, the Lower East Side – the market's most expensive area with average monthly rents topping $5,000 – has seen occupancy come down by 350 bps since February. Meanwhile, much of the rest of Manhattan, including the Upper East Side, Midtown East, Midtown West, Lower West Side and the Financial District, saw occupancy come down by roughly 130 bps to 280 bps during the pandemic. Only the Upper West Side avoided a downturn, with occupancy essentially matching the February showing.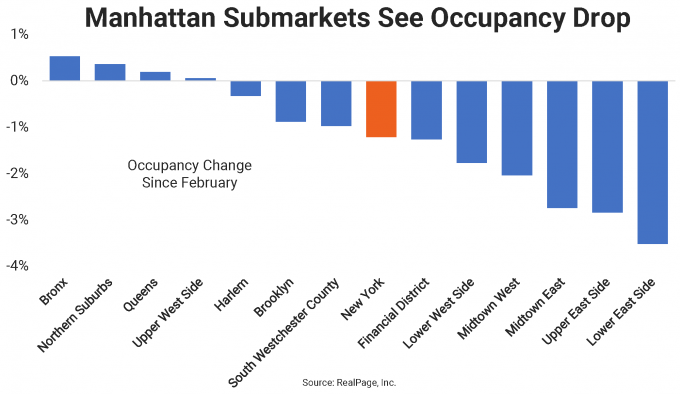 The only real progress made in occupancy since February was seen outside of Manhattan. The comparatively more affordable Bronx, Northern Suburbs and Queens neighborhoods logged progress between 20 bps and 50 bps over their pre-pandemic levels. (While Harlem is technically considered part of Manhattan, this neighborhood – the most affordable in Manhattan – behaves more like the nearby Queens borough in terms of performance. Harlem has seen occupancy ease just 30 bps since February.)
The Manhattan submarkets are also pulling New York down in effective asking rent change. Most New York submarkets were growing rents back in February. By August, only two submarkets – New York's Northern Suburbs and the Bronx – had retained growth. All other submarkets were cutting rents, and the most severe declines were in Manhattan.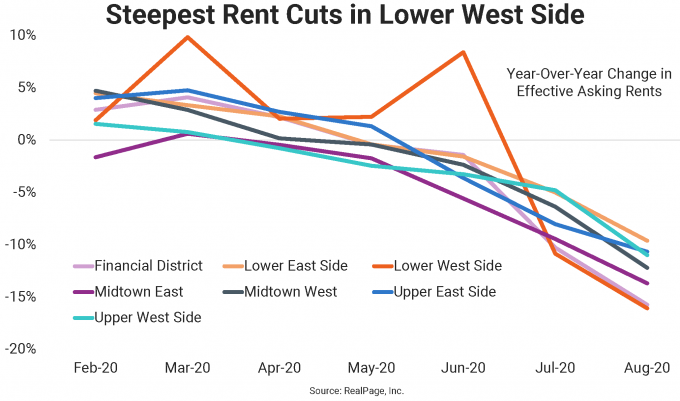 By August, operators in the Lower West Side were cutting rents most dramatically, at nearly 15% year-over-year. Similarly drastic declines between 9% and 11% were seen in Midtown West, the Financial District, the Upper West Side and Midtown East. Rent cuts were around 6% to 7% in the Upper East Side and Lower East Side. While steep, these cuts were still not as bad as the average market decline of 7.9%.