The Five Largest Apartment Transactions in 1st Quarter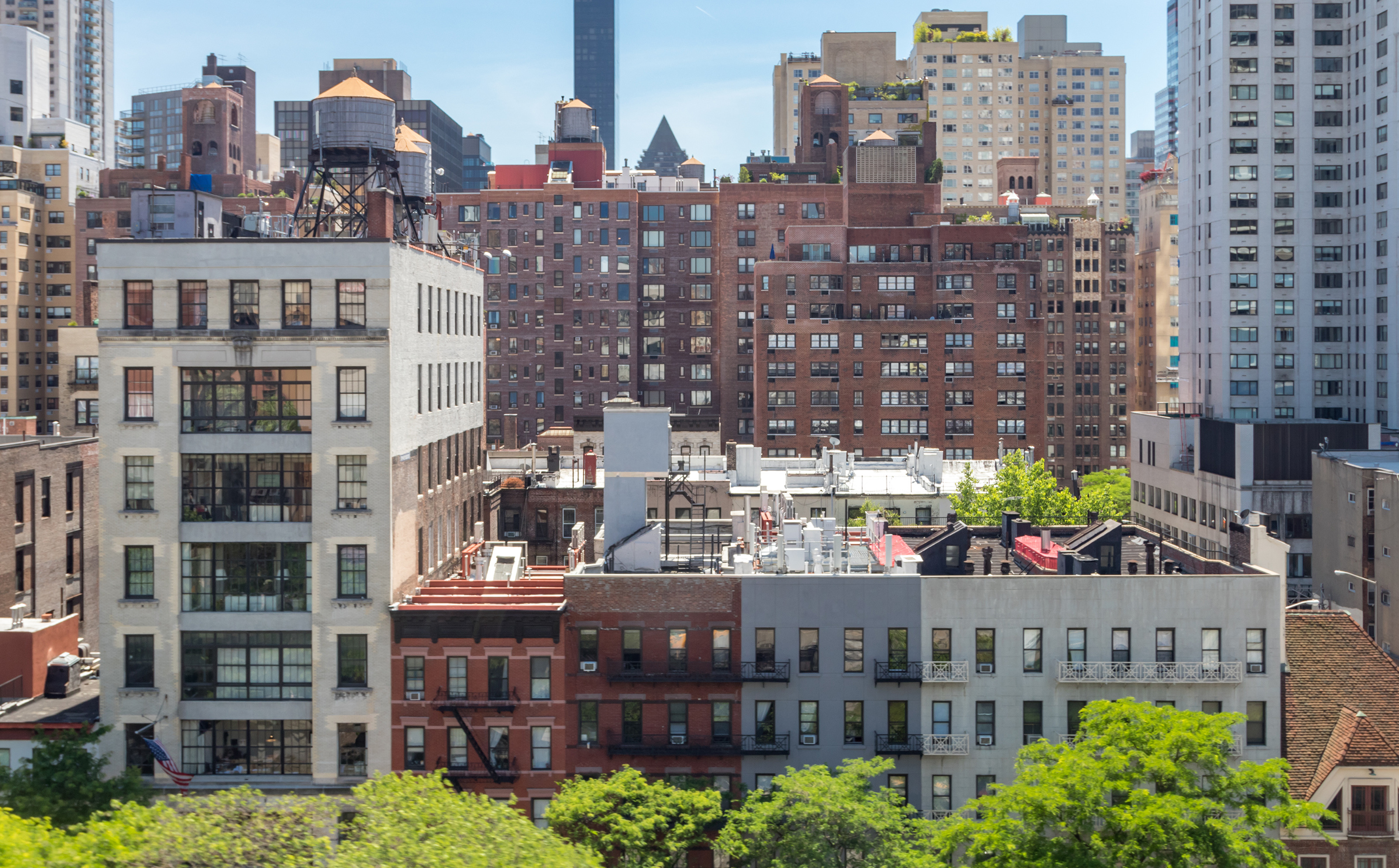 Apartment transaction volumes eased in 1st quarter 2022, following record volumes in 4th quarter 2021.
Roughly 2,200 apartment properties changed hands at a value of nearly $63 billion during 1st quarter 2022, according to Real Capital Analytics (RCA). This was the strongest 1st quarter on record, though transactions were well below the previous quarter when around 4,900 properties changed hands for more than $161.6 billion.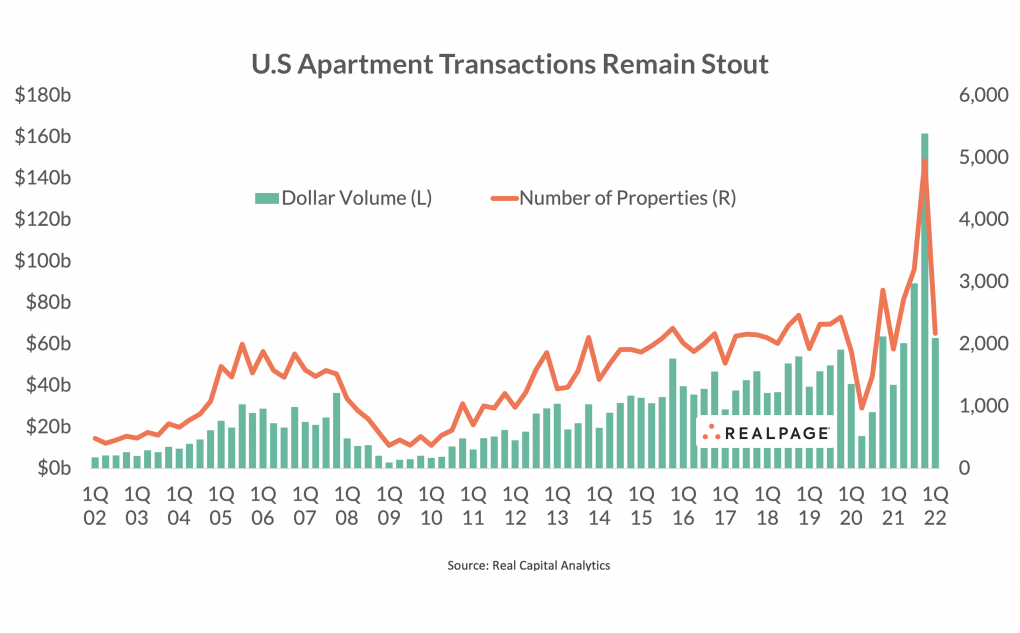 The recent low was in 2nd quarter 2020, following the onset of the pandemic, when only 968 properties were sold at a value of $15.7 billion. Just a few months later, in the last three months of 2020, about 2,900 apartments transacted for roughly $63.6 billion, which at the time was a 20-plus year quarterly high on both accounts. For 2020 overall, about 7,200 apartment communities were sold for nearly $147.2 billion. That was well below the volume from 2019, when nearly 9,000 properties traded hands for $193.3 billion. In 2021, transactions far surpassed 2020 levels, with roughly 12,800 properties trading hands at a value of more than $351.6 billion, nearly double the 2000 level on both accounts. Transactions in the year-ending 1st quarter 2022 totaled more than $374.3 billion with over 13,000 properties trading hands, new annual highs on both measures.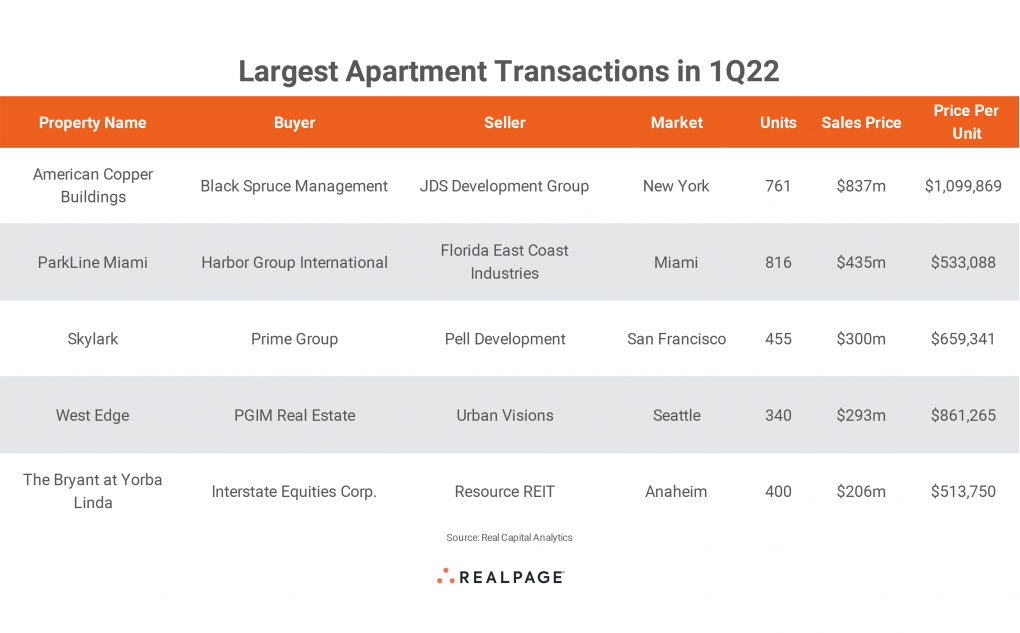 Here are the five largest individual apartment transactions from January through March, with all these transactions occurring on the East or West Coast.
American Copper Buildings
The largest apartment transaction to take place nationally in the first three months of 2022 was the sale of the American Copper Buildings in New York's Upper East Side. Manhattan-based JDS Development Group sold the property in the Murray Hill neighborhood to Black Spruce Management, also based in Manhattan. The development traded in early March for $837 million or nearly $1.1 million per unit. The 761-unit, two-building property was completed by JDS in 2018. The 41- and 48-story copper-clad towers sit on 6.4 acres along the East River waterfront and are connected by a three-story skybridge. Approximately 60,000 square feet of building amenities include a rooftop infinity pool, an indoor lap pool, fitness center with climbing wall, private spa and treatment rooms, yoga and Pilates studio, private locker rooms, children's playroom, residents' lounge, open studio, juice bar and chef's catering kitchen.
ParkLine Miami
Norfolk, VA-based Harbor Group International acquired ParkLine Miami from Miami-based Florida East Coast Industries (FECI) in mid-March. Ranking as the second-largest transaction in the nation during 1st quarter, the 816-unit Miami development traded for $435 million or roughly $533,000 per door. The Real Deal reports that the transaction was the biggest single-asset apartment deal in South Florida since at least 2018. The 44- and 47-story buildings are on Northwest 6th Street atop the MiamiCentral Brightline station in the Coral Gables/South Miami submarket. FECI completed construction on the apartment project in 2020. Community amenities include infinity and lap swimming pools, a quarter-mile running track, indoor and outdoor fitness centers, basketball court, pet parks and a grooming spa, a business center with co-working spaces, and outdoor grilling areas.
Skylark
The third-largest apartment transaction to take place in the nation during the first three months of the year was the sale of an asset in the San Francisco market. In late January, San Francisco-based Prime Group bought the Skylark apartment community from Pell Development, also based in the San Francisco area. The 455-unit development is situated on roughly 19 acres on Skylark Drive in the Larkspur hills at the base of Mount Tamalpais. The Marin County community sold for $300 million or roughly $659,000 per unit. The three-story community was built in 1972 and features a fitness center, sauna, pool, clubhouse, assigned parking and a 24-hour fitness center.
West Edge
In February, Madison, NJ-based PGIM Real Estate closed on the acquisition of West Edge, a high-rise apartment building in Seattle. PGIM purchased the 340-unit building from Seattle-based Urban Visions for nearly $293 million or roughly $861,000 per unit, the nation's fourth-largest transaction in 1st quarter. The price per unit set a new record for the Seattle market and does not factor in the development's ground-floor commercial space. Excluding the retail portion, the price amounts to $845,000 per unit, still a record high. The 39-story building, which was completed in 2018, sits on less than half an acre in Downtown Seattle at 2nd Avenue and Pike Street near the entrance to Pike Place Market. Community amenities include two entertainment suites, car wash stations, indoor pet lounge and outdoor pet terrace, an eight-floor lounge with terraces and grills, a fitness club, and a second lounge on the 39th floor.
The Bryant at Yorba Linda
Los Altos, CA-based Interstate Equities Corp. bought The Bryant at Yorba Linda in the Anaheim market from Philadelphia-based Resource REIT in January. The garden-style apartment community on River Bend Drive in Yorba Linda is adjacent to the intersection of CA-91 and CA-241 in North Orange County. Ranking as the fifth-largest transaction in the nation during 1st quarter, the 400-unit development traded for $205.5 million or roughly $514,000 per unit. The two-story community was built in 1986 and last changed ownership in 2015 when Resource REIT acquired the asset from AvalonBay Communities for $118 million. The two-story development features a saltwater pool with cabanas, outdoor poolside firepit and kitchen, fitness center and yoga studio, clubhouse, playground, wading pool, dog park and sports court.