Lots More Apartments Are On the Way in 2021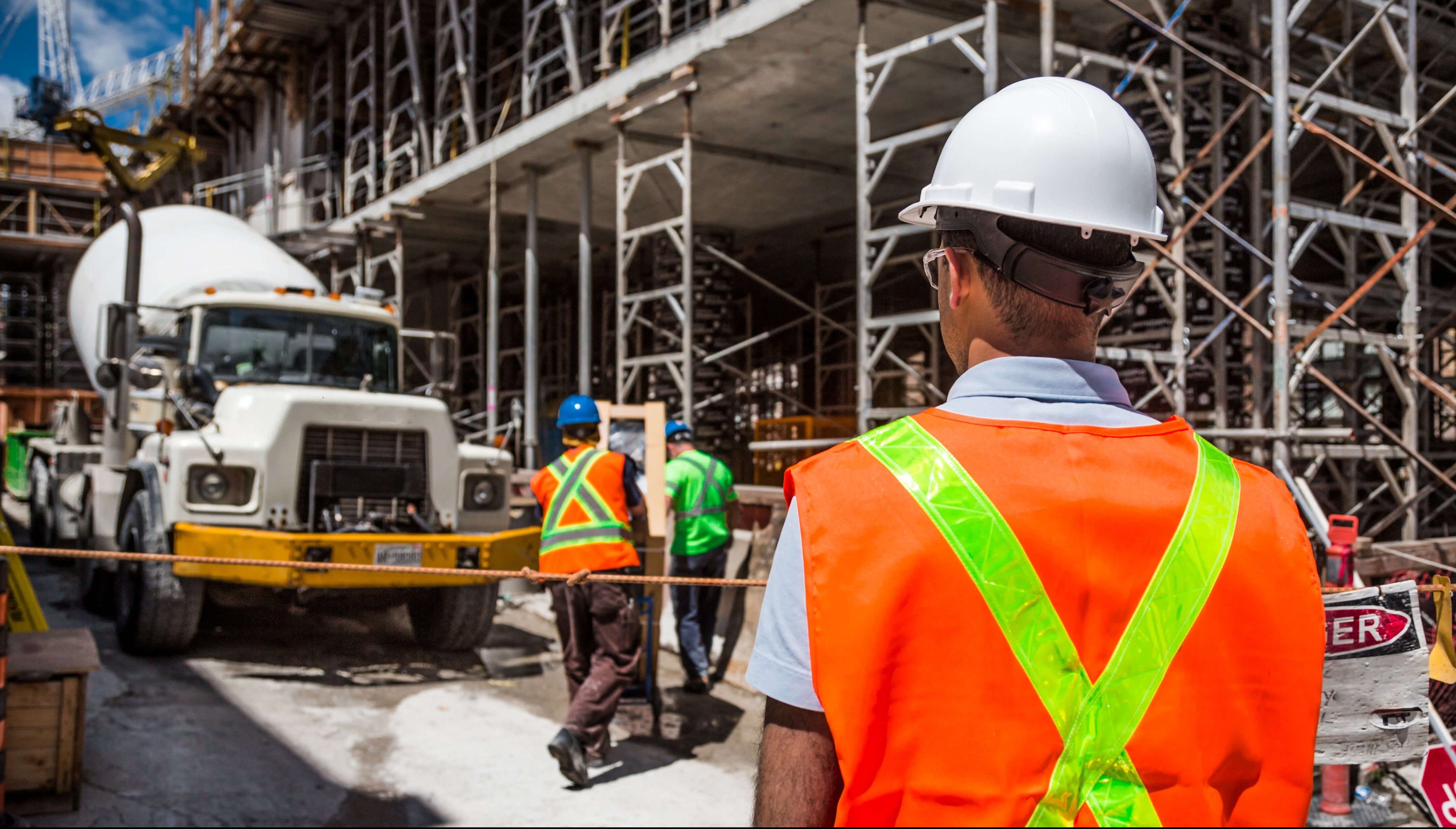 Look for another round of substantial apartment completions across the U.S. in 2021. Scheduled deliveries top 2020's already big volumes in many metros, including most of the gateway markets where rent achievement has deteriorated so much during recent months.
RealPage project-by-project information for ongoing development shows 583,280 market-rate units under construction across the country's 150 largest metros at the end of 2020. That figure is off its recent peak by nearly 100,000 units, reflecting that building starts slowed during the course of 2020.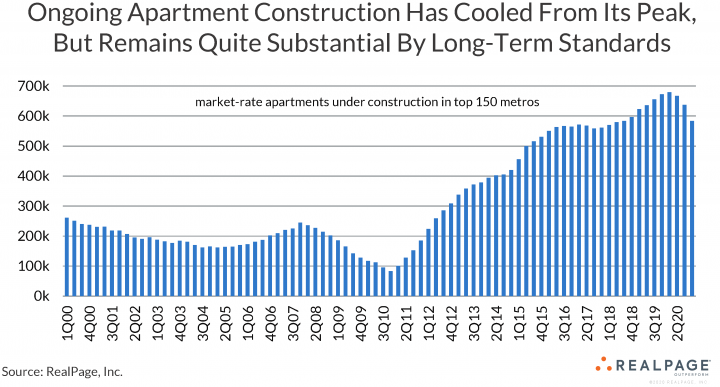 However, scheduled completions in 2021 exceed the 2020 delivery total, given that so many of the projects now underway are close to being finished. Targeted deliveries in 2021 reach 403,644 units, up 17% from 2020's new supply figure of 344,380 apartments. Expect some of those projects to miss their scheduled completions dates, but that still means that 2021 new supply is likely to surpass 2020's tally by at least a small margin.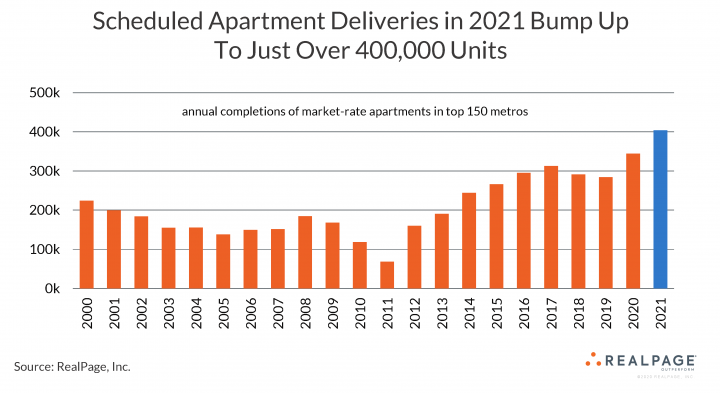 Texas Stays Busy (Mostly)
If the topic is construction, Texas always plays a key role in the conversation.
Dallas/Fort Worth has been the country's apartment delivery leader over the past decade or so by a sizable margin. Product on the way totals about 36,400 units. Since starts slowed quite a bit during the past year, that's the smallest block of ongoing construction that North Texas has registered in five years, but it still represents an aggressive building pace. Apartments that are scheduled to deliver in 2021 total about 28,500 units.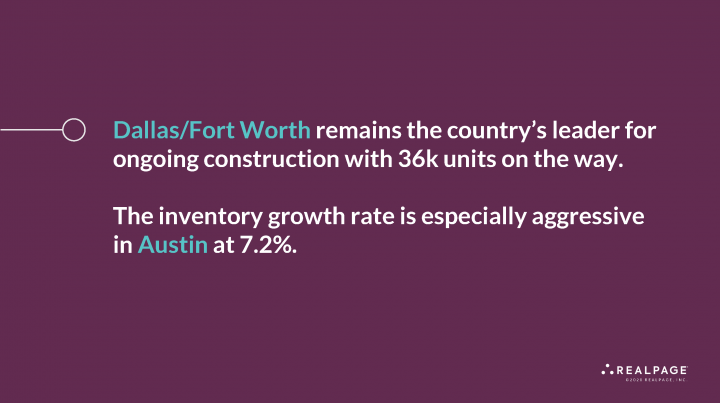 Houston has roughly 21,500 units under construction, and the number in Austin approaches that level, at some 18,700 units. The near-term inventory growth rate in Austin will reach 7.2%, with a similar percentage increase seen only in Nashville, Salt Lake City, Charlotte and Phoenix.
The outlier story in Texas occurs in San Antonio. Ongoing construction there has eased to about 6,300 units, way under the norm for the past decade or so.
Atlanta Building Cools, But Other Southeast Markets Are Active
Reasonably tame completions helped Atlanta's overall apartment market performance in 2020, and product on the way remains – perhaps surprisingly – in check. Some 14,700 units are under construction, and the number of apartments scheduled to be finished specifically in 2021 drops to 8,400 units, around 5,000 units under 2020's tally.
Orlando, Nashville, Charlotte and Miami all roughly match Atlanta for the absolute number of apartments on the way, but those additions translate to much more aggressive inventory growth rates for them since their existing stocks are notably smaller than the Atlanta inventory. Scheduled completions in 2021 exceed 2020 additions by at least a third in each.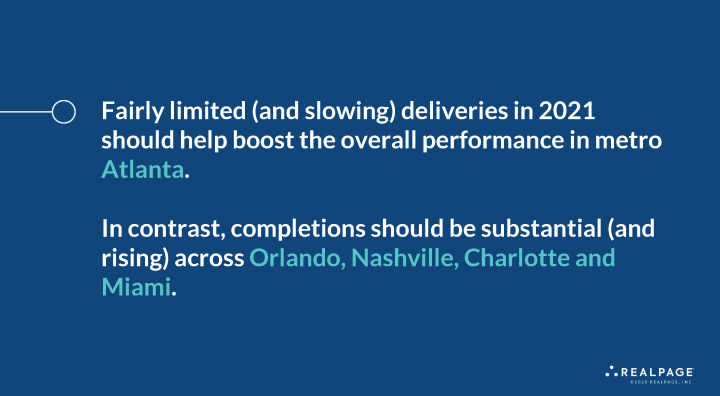 Ongoing construction comes in at roughly 9,700 units in Raleigh/Durham, around 8,300 units in Tampa and some 6,700 units in Fort Lauderdale. This year's scheduled completions are about in line with 2020's new supply in each metro.
Activity Varies in the Mid-Atlantic/Northeast Zone
Metro Washington, DC is Dallas/Fort Worth's key challenger for the national lead in apartment construction. Ongoing building is up to roughly 31,800 units. Scheduled deliveries in 2021 edge up to around 14,800 apartments, climbing by roughly 2,000 units from 2020's completion volume.
One of the country's most dramatic increases in apartment building activity is occurring in the Newark/Jersey City area. Ongoing construction has surged to roughly 29,800 units. The 19,600 apartments scheduled to finish in 2021 top 2020's deliveries by a stunning 12,000 or so units – an increase of a whopping 161%. Much of this construction is concentrated in just a couple of neighborhoods that offer direct subway or ferry commutes into Manhattan.
New York's upcoming additions reach levels way beyond ideal for a market where occupancy is trending downward and rents are plunging. Ongoing construction totals some 22,000 units. While only about 12,300 of them are scheduled to deliver in calendar 2021, that block of new supply approximately doubles the 2020 completion volume.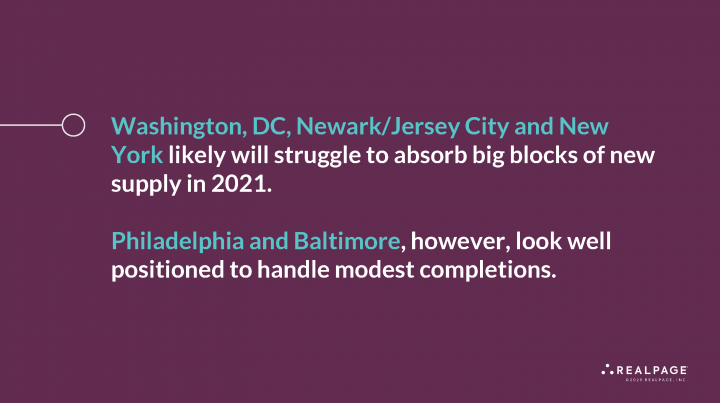 The news is better in Boston, another market where apartment owners are struggling with a big loss of pricing power. Scheduled completions in 2021 drop from 2020's total by roughly 2,300 units, or 24%, to a moderate 7,100 apartments. Those 2021 scheduled completions are a little more than two-thirds of the ongoing construction total of some 10,400 units.
With overall market performances faltering in gateway cities during 2020, Philadelphia and Baltimore now are the Mid-Atlantic/Northeast metros with the healthiest apartment sectors. Relatively muted construction activity should help them retain that advantage.
Ongoing construction stands at some 8,600 units in Philadelphia, and 2021's scheduled deliveries of roughly 5,300 apartments are down by 1,500 units from 2020's new supply. For Baltimore, work is in progress on approximately 3,000 apartments. Only 1,500 units are targeted for completion in 2021, and that's just half of last year's count.
Minneapolis Is the Midwest's Hot Spot
Minneapolis has bumped Chicago from the lead for apartment construction in the Midwest. Some 14,300 apartments are under construction in Minneapolis. Scheduled completions totaling about 8,700 units in 2021 are slightly above 2020's delivery volume.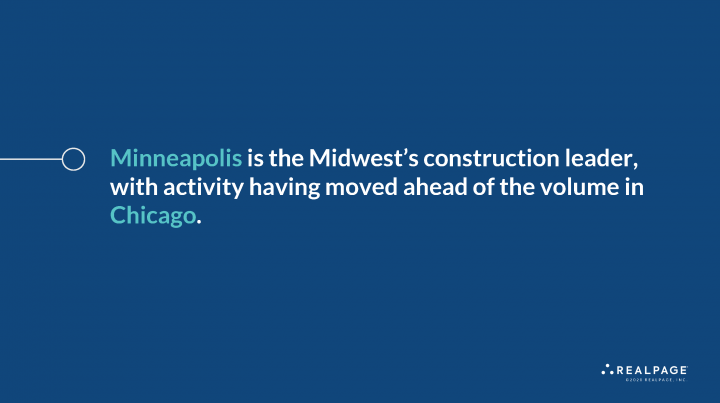 In Chicago, the ongoing construction volume has slowed to roughly 10,400 units. Apartments targeted for 2021 completion – some 6,700 units – total about 20% less new supply than was seen in 2020.
Other spots across the Midwest usually don't experience especially notable construction, and that generally will again be the case in 2021. Columbus has roughly 6,400 units on the way, and building proceeds on some 5,900 units in Kansas City. Ongoing construction totals roughly 4,600 units in Detroit, which is worth mentioning just because the number is up from virtually nothing for a very long time.
Phoenix and Salt Lake City Will Grow
Turning to the Mountain/Inner West markets, Phoenix building activity soared over the past year, the increase in multifamily building permit volumes continues to be sky high. Ongoing construction is now at some 24,700 units, and those additions will translate to 6.8% inventory growth. New supply scheduled to finish in 2021 reaches 15,400 units, up by 6,900 units from 2020's completions.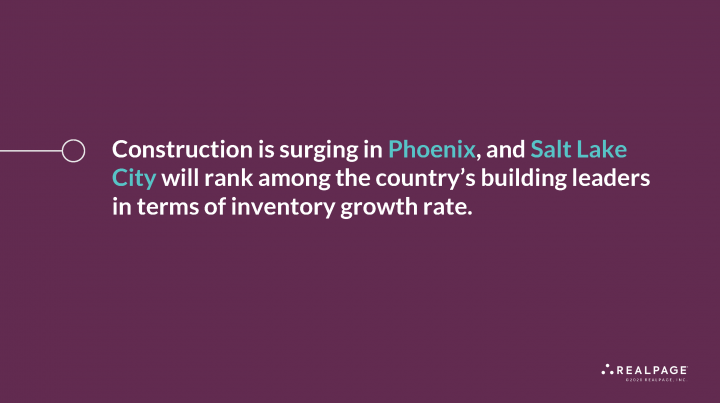 If Phoenix's 6.8% near-term inventory growth rate isn't enough for you, there's the 7.6% stock expansion on the way in Salt Lake City. Total ongoing construction registers at roughly 8,500 units. Of those, about 5,800 apartments are scheduled to complete in 2021, moving ahead of 2020's new supply by some 2,700 units.
Denver's total of about 13,200 units on the way will grow the local stock by 4.3%. Additions scheduled to total some 8,800 units in 2021 about match the 2020 delivery pace.
West Coast Gateway Metros Will Struggle
Los Angeles, the Bay Area and Seattle … ouch!
The Los Angeles ongoing construction tally stands at approximately 29,500 units. Scheduled completions in 2021 shoot to some 21,100 units, doubling the delivery volume from 2020. That's certainly a concerning block of new supply for a metro already experiencing sizable rent cuts, but it must be noted that – more than in most other locations – actual completions in LA generally occur much later than the timetables that developers target.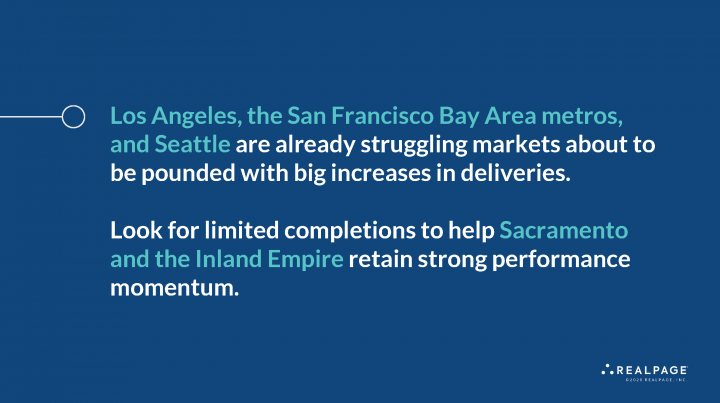 While construction isn't off the charts in any of the three Bay Area metros, add the three together and you have about 25,400 units under construction. Combined new supply scheduled to complete in 2021 reaches around 19,500 units, up by 8,500 apartments from 2020's delivery volume.
Seattle registered a really big drop in multifamily permitting and construction starts during 2020, but lots of product that was begun earlier is still on the way. Ongoing building totals around 19,900 units. Many of those additions are about to finish construction. Scheduled completions in 2021 reach roughly 14,600 units, topping 2020's new supply volume by some 8,600 units.
While the West Coast's traditionally preferred markets have stumbled, there are a couple of new star performers: Sacramento and Riverside/San Bernardino. New supply won't derail their momentum in 2021. Sacramento's ongoing construction is limited to around 3,600 units (2.3% inventory growth), and the Inland Empire building pace is even slower at fewer than 1,800 units (stock growth of less than 1%).
For a look at construction and new supply totals across each of the 50 largest local markets, download the latest RealPage construction snapshot.